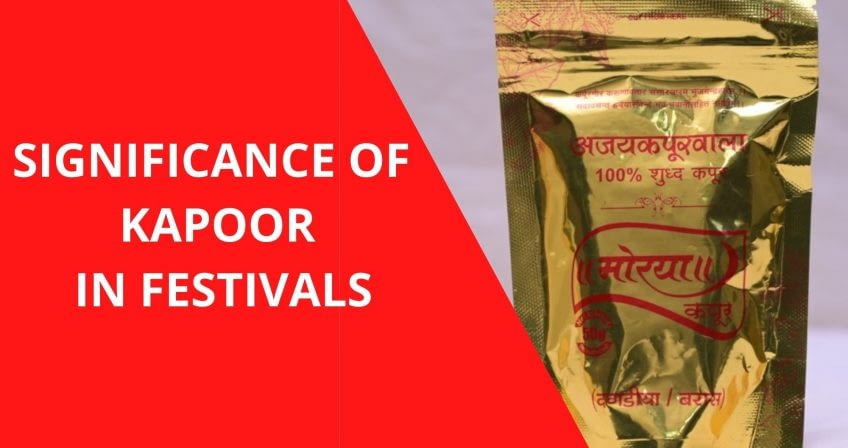 Hinduism has a vital essence of sanctimonious rituals in distinguished festivals. For ages, we have been praying to gods and goddesses and showing our devotion through aartis and puja performed amidst the festivities. There has always been one prerequisite element in the puja- Camphor or Kapoor. There is a lot of significance of camphor/Kapoor in festivals.  The best Bhimseni Kapoor manufacturer in India provides authentic camphor for religious purposes as it holds a prolonged significance in every Hindu household.
The aartis and puja rituals symbolize piousness and peace in a household. It is a sacred process, and that's why camphor is a highly preferred ingredient of Hinduism culture. All the Kapoor manufacturers in Maharashtra deliver quality-based camphor rich in fragrance and develop a tranquil worshiping experience around the house. 
India has always been known as the land of all promising herbs and a continent that made requisite progress in Ayurveda; that's why camphor is a worshiping agent for people and an element for complete body purification. Let's find out more about the ancient herb and how integral it is in the lives of people in India?
What is Kapoor/ Camphor?
The word 'karpur' comes from the Sanskrit language, which is also known as Camphor. It has an exquisite and fresh fragrance that fills the house with grace of devotion and purity, destroying any negative essence in the place. During the festivals, people in their homes light the lamps with oil or Ghee (Clarified Butter) while performing the aarti. Post this process, they would light camphor and burn it to offer the god or goddess. 
The Making of Kapoor
There are mainly two kinds of Camphor, one is edible and used in Culinary dishes, and the other is synthetic Kapoor. Both of them belong to the Bhimseni Kapoor/camphor category. These are the original camphor developed by the best Bhimseni Kapoor manufacturer in India. They are naturally formed from the stems and bark of a coniferous and evergreen tree known as Camphor Laurel and create a pleasant aroma in the air. 
A Kapoor/camphor resembles a waxy crystalline substance with the ability to completely burn itself and leave no traces behind because it evaporates. You would know the original camphor when you see it since it does not have any form, and many Kapoor manufacturers in Maharashtra are making them. 
Medicinal benefits
Every Hindu holy scripture defines Kapoor as a significant religious ingredient and an element with many medicinal qualities. When you burn a Kapoor, the aroma it disseminates is very healing for the body. Moreover, there are many medicines and pain relievers that have camphor as one of their ingredients. 
Experts have also mentioned that it is one of the many rare elements in nature that contains antioxidants. Many camphor manufacturers in Nagpur supply Kapoor to various parts of India since it has the ability to make people's religious ceremonies more auspicious and peaceful and offers other benefits too. 
The Use of Kapoor/Camphor in Indian Festivals
The festive season is just around the corner, and India is prepping up for the glorifying experience again. There is an aura of joy and liveliness all around, and people are carrying devotion in their hearts to organize pious, traditional customs that would include Pooja Aarti. The best Kapoor manufacturer in Nagpur provides people with the pure ingredient that fulfills their devotion and makes their ceremony wholesome. 
During festivals, people would look for quality and authentic ingredients, especially when buying components for pooja. Hence, the best Kapoor Wholesalers in Nagpur deal with the purest form of camphor so that people do not compromise with their devotion and uprightness. 
However, even though every Indian would diligently follow the religious process and look for all quality-based products for such a propitious occasion, only a few would know precisely why a Camphor is lit and burnt during a ceremony. The process is ancient, but people are unacquainted with this Idea. 
A mantra (Chant) in holy scripture talks about the purity of camphor/Kapoor equivalent to lord Shiva's purity. The burning of the Kapoor ignites the flame similar to the flame of consciousness of Lord Shiva.
Pure White like Camphor, an incarnation of compassion, the essence of worldly existence, whose garland is the king of serpents, constantly dwelling inside the lotus of the heart. I bow to Shiva and the Shakti together.
We are near two of the most prosperous and important festivals in India, Navratri and Diwali. During these days, any Hindu household follows several steps and Kapoor is an essential part of it. So, let's get a detailed understanding of the significance of Kapoor and how much value it holds in both these festivals. 
Navratri Aarti/Pooja
Navratri is a nine-day long festival and is devoted to goddess Durga. In Bengali culture, this festival is termed Durga Pooja. People do the collocation of goddess Durga's idol and worship it constantly for nine days by lighting ghee diyas.  
The hawan ceremony in Navratri pooja is a part of the entire religious ritual. People would light camphor and pour it with ghee in the hawan so that the entire house is surrounded with the purified power of the goddess. Individuals of the house with closed eyes and folded hands self-introspect for a peaceful consciousness and soul and pray to obtain sanctity around them. Hence, Camphor becomes the binding agent of peace with harmony and self-realization with goodness. 
Diwali – Laxmi Pooja
Diwali, the festival of lights, is the most delightful occasion in India. It marks the day when Lord Rama came back from a prolonged exile after defeating Ravana. It is a celebration symbolic of the triumph of everything good over evil, similar to Navratri. People perform Laxmi pooja at their homes during this day to welcome wealth and prosperity in their lives. Hence, camphor is a big part of this ritual.
People use camphor during aarti to appease the goddess and create a serene environment in the house. It denotes the fulfillment of life with tranquility and wholeness, destroying the evil in our hearts and welcoming the goodness and righteousness in us.
All the Kapoor dealers in Maharashtra are offering camphor to the Indian market during festivities. Still, there are so many other occasions and religious rituals that demand the pureness of the herb-Camphor. Hence, it is an agent that revives the environment of a festive home with a feeling of idolization and holiness, making it more sacred.